Cooling Towers | FRP Solutions
Lightweight. Corrosion resistant. Non-conductive. Fastec Cooling Tower components, from channels to grating are cost-effective and made to withstand the elements. Use Fastec International structural profiles to replace standard wood profiles, including decking, channels, and square tube or as new building material for any cooling tower.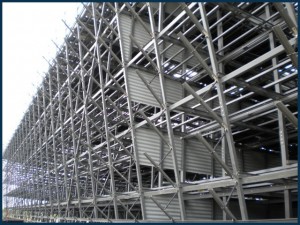 Fastec structural profiles provide stability, protection,
and corrosion resistance for cooling towers. 
Fastec International Decking provides strength,
durability, and safety to cooling tower rooftops.
Benefits:
Corrosion Resistant – A perfect solution for cooling tower environments
Nonconductive – Won't spark or conduct electricity
Lightweight – Makes fabrication easy, reduces transportation costs, and may reduce support requirements
Strong & Stable – Strong as steel, yet requires less maintenance, and won't shrink, swell, or warp
Long-Lasting – Won't show wear and tear due to weather, chemical elements, or high traffic
Nonmagnetic – Safe around all electronic equipment
Easy to Install – Lightweight and can be installed using commercial tools
100% Guaranteed Performance
Request Quote