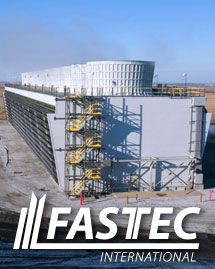 Fastec International FRP Cladding
Fastec's FRP Cladding pairs innovative design with strength and durability. Lightweight, easy to install, a breeze to clean, and corrosion resistant, our cladding will stand the test of time, giving your structure that rare combination of both functionality and attractiveness. FRP cladding is a great solution for environments that are corrosive, wet, or exposed to the elements or chemicals.
Contact us to learn more about how we can meet your design needs with our cladding!
Applications:
Cooling Towers (Stick Built, Modular, and Reconstruction)
Marine
Recreation & Water Parks
Water & Wastewater
Oil & Gas
Chemical
Pulp & Paper
Mining
Electrical
Architecture
Custom Applications